WAWF Shipment Processing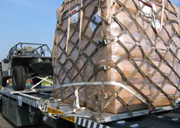 Comply/Shipper collects and organizes data for WAWF shipping and invoicing, principally to submit Receiving Reports (DD250s) and Invoices to Wide Area Workflow.   Shipments may be created quickly by using integrated address and parts databases, or by importing shipments from business systems or electronic DIBBS purchase orders (DLA EDI-850 transactions).  Its tight integration with IUID and RFID processing and support for VSM and GFP can make it the centerpiece of WAWF shipping automation.
IUID and RFID Integration
Comply/Shipper is tightly integrated with Comply/Labeling, so that data created for a DD250 can be used for Mil-Std-129R container labels.  IUIDs added to a WAWF shipment may be printed on IUID label formats,  RFID labels generated by Comply/ Labeling are automatically aggregated with IUID data for sending to WAWF electronically (via EDI).
The shipment process can be performed in any order, on a single PC or many.  MIL-Comply works just as well for small businesses as it does for large enterprises.   And can be scaled up as demand grows and processes change.
Working offline means your team works at its own pace, rather than trying to complete their work on the WAWF web site.  Draft Receiving Reports (DD250s) may be printed for internal review.  Official DD250, DD1149 and DD1348 forms may be printed for inclusion with shipments (see Defense Forms).
Comply/Shipper is also part of the MIL-Comply GFP Automation for contractors servicing and shipping Government-Furnished Property (GFP) to the Government.  This makes it simple to generate the Reparable Receiving Report (RRR) required by the DFARS for shipping GFP.