DoD Shipment Automation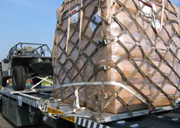 Comply/Shipper collects and organizes data for defense shipping and invoicing, principally to submit Receiving Reports and Invoices to Wide Area Workflow (WAWF).   Shipments may be created quickly by using integrated address and parts databases, or by importing shipments from business systems or electronic DIBBS purchase order (DLA EDI-850) transactions.
Shipper is tightly integrated with Comply/Labeling, so that data created for a WAWF Receiving Report (DD250) can be used for Mil-Std-129R container labels or vice versa, either on a single PC or as part of a team.   RFIDs generated by Labeling are automatically aggregated with IUID data for inclusion on EDI Receiving Reports that can be sent to WAWF.
Draft Receiving Reports (DD250s) may be printed for internal review.  Official DD250, DD1149 and DD1348 forms may be printed for inclusion with shipments.
Shipper is also tightly integrated with Comply/UID Manager to generate the Reparable Receiving Report (RRR) required for shipping repaired GFP to the Government.