---

P/N: MCP-2073-01
Pack-2073
---
Mil-Std-2073 Packaging Worksheets eliminate the hassle of looking up packaging requirements in Mil-Std-2073 is tedious.   MIL-Comply Pack-2073 does that for you and produces an easy to follow Packaging Worksheet for your packaging team's use. 
Works with Comply/Shipper and Comply/Contracts to integrate packaging with Receiving Reports as part of MIL-Comply WAWF Automation concept.  Automatically populates packaging worksheets using electronic (EDI-850) purchase orders from DLA/DIBBS, ensuring that you have the correct packaging method for every electronic order. 
Input your packaging codes one time using the intuitive and efficient Packaging Code pull-down tables. Pack-2073 saves your packaging codes so you don't have to input them again.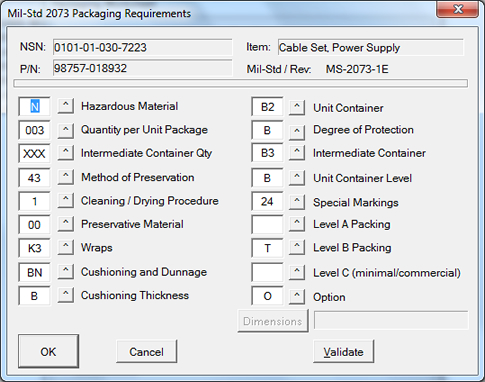 Features:
Drop-down Packaging Codes
Instant Error-Checking
Parts Database to save your work
Use with Labeling, Shipper and Contract Manager
Supports Mil-Std 2073-1E (Change Notice 4)
Continued support included for older versions of Mil-Std 2073: 2C, 1C, 1D
Creating a Mil-Std-2073 Packaging Worksheet is easy with MIL-Comply. No more paging through table after table in Mil-Std-2073 and copying and pasting instructions.
Type in the codes or select from drop-down lists. Your work is checked for errors as you go. When you are done, save the item in the Parts Database for future reference.
Organize Data by NSN, Part Number or Contract/CLIN
Pack-2073 stores parts by the contract line item, for multiple packaging specifications for the same item, meeting the needs of different customers.
Parts are also stored by NSN or Part Number. Thus more efficient when items are always packaged the same way.
Learn more about the MIL-Comply solution for Mil-Std-2073 Packaging Codes management
See also: