The DLA's Vendor Shipment Module (VSM) web application is of great value to the DLA in managing transportation for defense contractors.   Most vendors use VSM primarily to get the Ship-To address and a Transportation Control Numbers (TCN) for their shipment, along with small parcel shipment labels.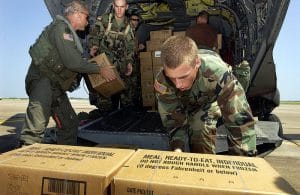 For larger shipments (TL/LTL), VSM makes arrangements with transportation carriers and provides the necessary paperwork.
The Vendor Shipment Module provides vendors with shipping labels for small parcel services, such as Fed Ex and UPS. This relieves the vendor of making those arrangements and reimbursement for it.  This also simplifies the bidding process and allows the Government to negotiate favorable rates.
Vendor Shipment Module (VSM) Website
Using the VSM web site can be somewhat cumbersome, particularly if you are using MIL-Comply for Mil-Std-129R labeling.  With VSM Automation you can simply enter the shipment container weights and dimensions and then let MIL-Comply communicate with Vendor Shipment Module to get your Transportation Control Number (TCN), Ship-To address and shipping instructions.   For small parcel shipments this can happen in real-time without ever leaving the labeling process.
The VSM Integration uses the same thermal-transfer printers that you probably use for UPS and FedEx right now, producing high quality Military Shipment Labels and carrier transportation labels.   Of course, it works with standard Windows laser and inkjet printers as well.
The MIL-Comply VSM Automation feature eliminates the need to access the Vendor Shipment Module web application, as well as the need to transcribe information from the VSM web application into other systems.   Contractors that automatically download electronic (EDI-850) purchase orders into MIL-Comply can prepare container and shipment labels, and invoice the Government with minimal data entry and without accessing web sites.   DCMA shipments that require acceptance prior to shipment can achieve that electronically rather than entering data into the WAWF web site.
Creating Shipments for the Vendor Shipment Module
Shipments with VSM Automation can be created in MIL-Comply using one of these methods:
Receipt of an electronic purchase order (EDI 850) from DLA/DIBBS
Using a shipment template
Copying a similar shipment
Entering the shipment data manually (with the help of parts and address databases, various wizards)
Importing shipment data from a business system or other source
Define Container Dimensions while Printing Mil-Std-129 Labels
VSM requires the number of containers to be shipped, along with their weights and dimensions. Comply/Labeling simply collects that information while preparing exterior container labels (Mil-Std-129). A click of a button sends a request to VSM for shipping instructions.   For small parcels accepted at destination, VSM will immediately respond with a Transportation Control Number (TCN)  and an official carrier shipping label for each container. These can be printed on laser or thermal-transfer (e.g. UPS provided) printers and applied for shipment.
The TCN and Ship-To address flow right into the Military Shipment Label (MSL) that Comply/Labeling can print to a laser or thermal-transfer printer. Or you can print VSM's PDF version on a laser printer.  Comply/Labeling's VSM Integration includes access to the full menu of Mil-Std-129R label formats for unit and exterior containers, IUID containers, etc.
WAWF / DIBBS Automation
Because the MIL-Comply WAWF and VSM processes are so tightly integrated, your overall work gets done much faster and with fewer errors. For DCMA shipments that are accepted at origin, you really need only to added container dimensions in order to submit to VSM. Creating a WAWF Receiving Report for VSM Fast Pay shipments just requires adding address codes for the payment and contract administration offices. Using Comply/Shipper's templates makes that quick and easy.
For DIBBS orders, you can nearly eliminate all data entry by automatically downloading EDI purchase orders directly into Shipper or Labeling. Then it's matter of simply adding container dimensions for VSM and an invoice number for WAWF. VSM automation will take care of getting the TCN and the Ship-To address.