Creating a Mil-Std-2073 Packaging Worksheet Has Never Been Easier
Comply/Pack-2073 speeds the process of looking up Mil-Std-2073 packaging codes. It creates packaging worksheets by pulling the official language directly from the appropriate revision of the Mil-Std-2073 packaging standard. Older revisions of packaging standards are included for long-term contracts.
The breakdown of the Mil-Std-2073 packaging codes may be viewed on-screen, or printed out to a more formalized Packaging Worksheet for use by packagers and documentation of packaging method for later review.   Supplemental information may be entered by the user to provide additional guidance to packagers.  All of this is stored in the packaging database for future use.
Entering Mil-Std-2073 Packaging Codes
Entering the packaging codes from a contract or order easy in Pack-2073, simply transcribe them into the Packaging Requirements table.  Pack-2073 will tell you right away if any code entered is wrong for the requirement.   You can also pull down a list of codes for each requirement to select from.   
In most cases Mil-Std-2073 packaging codes for any given part will only need by entered one time, then retrieved later by NSN.  Just check to make sure the Packing Level is appropriate for the contract usage.  This example uses Level B Packing of type 'T'.   
Packaging from Contracts and DIBBS Orders
The easiest way to enter packaging requirements is to let the Government do it for you.  Mil-Std-2073 packaging codes are generally included in the DIBBS electronic (EDI-850) purchase orders that can be sent to MIL-Comply by DLA. This allows the automated generation of packaging instructions, using the actual purchasing instructions, part of the MIL-Comply DIBBS Order Processing Automation.   

Mil-Std-2073 Packaging Database Listing
Long-term contracts, such as those administered by DCMA, generally include packaging instructions in the form of Mil-Std-2073 packaging codes that can be used to create Packaging Worksheets directly from the contract data.  Packaging requirements that are included in the electronic contract (EDI-850) award are integrated into a MIL-Comply Contract Manager contract definition.   These are then available at the time a shipment is being prepared, or retrieved in advance by referencing an item's National Stock Number (NSN).  Contact Mil-Pac for more information on downloading long-term contracts from Wide Area Workflow, part of the MIL-Comply WAWF Automation feature.
Store Requirements by NSN, Part Number, or Contract and CLIN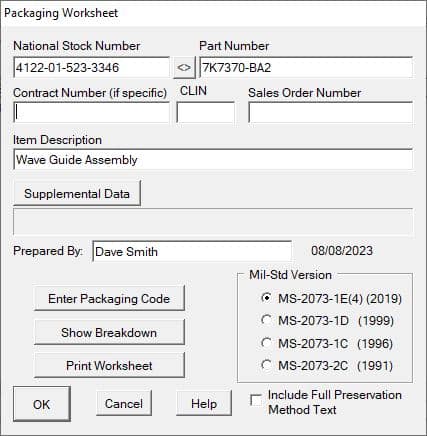 Packaging requirements are designed taken into consideration the physical characteristics of the item, its fragility and need for preservation against the environment.  Analysis of each item's likely needs for protection against the rigors of transportation and storage yields packing requirement codes that fall into three categories.  So generally speaking you will need to store the requirements for each item only once. 
MIL-Comply stores Mil-Std-2073 requirements by National Stock Number (NSN).  However, it is possible that requirements could be specialized for a specific contract or contract line item (CLIN) so they may also stored by contract and CLIN.  
Parts may also be stored by their Part Number, which is a popular option for mil-spec packaging houses.  Because a given part number could be used by different clients companies, a contract number or NSN is required in order to ensure the part number represents a unique item.
MIL-Comply Packaging Integration 
Support for Mil-Std-2073 packaging codes is woven throughout the MIL-Comply design.  Pack-2073 is a designed as a stand-alone packaging tool, allowing a user, or team of users, the ability to create a database of packaging requirements for immediate and future use.   
Packaging requirements may also be accessed while using MIL-Comply Mil-Std-129R Labeling solution by NSN, part number or the current contract and line item number of an item being labeled.   Packaging requirements may also be established Shipper and Contract Manager users, who are often the first to gain access to purchase orders and contracts.   For contracts and shipments that are created by processing EDI transactions or importing data from business systems, packaging requirements may be populated along with other contract and shipment data for use by Pack-2073 users.
Mil-Std-2073 Packaging Code Support:
Pull-down Packaging Code Tables
Instantaneous Error-Checking
Packaging Database to store definitions
Integrated into all aspects of MIL-Comply where CLINs are managed
Supports Mil-Std 2073-1E – Change Notice 4   (April 2019)
Continued support included for older versions of Mil-Std 2073:  2C, 1C, 1D