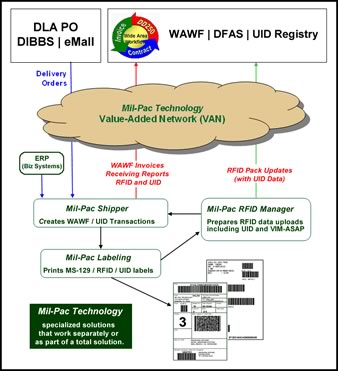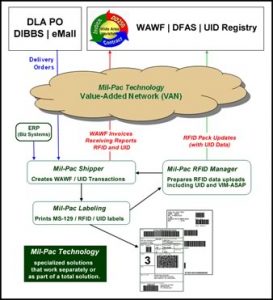 The key to speedy processing of DLA/DIBBS orders is EDI. The Defense Logistics Agency will provide vendors with electronic versions (EDI-850) of their purchase orders which can greatly speed and simplify processing.   Using EDI purchase orders practically eliminates data entry that is required for:
WAWF Fast Pay DD250s and Invoices
Mil-Std-129R Labeling
VSM Shipping Instructions
Mil-Std-2073 Packaging Instructions
MIL-Comply is a powerful, integrated tool that simplifies shipping to DLA.  Everything works off of one set of data, whether it comes from DLA, your business systems, or is entered by hand with help from MIL-Comply's database widgets.