---

P/N: MCL-BSC-GSA1
GSA Quick Label
---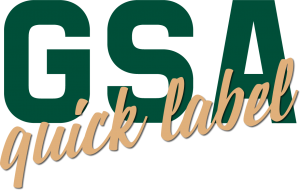 With GSA contracts shipping to both GSA and DLA locations, compliance with both FED-123H and Mil-Std-129R is required. GSA Quick Label enables you to quickly and easily prepare your shipments whether they are going to a GSA Supply Center or DLA Depot.
GSA Quick Label bundles Comply/Labeling with Shipper eAwards to produce Fed-Std-123H and Mil-Std-129R compliant shipping labels to allow you to import GSA electronic purchase orders (EDI-850) that are exported from your GSA-capable VAN (see Note 1).
For those importing GSA orders from GSA EDI POs, using MIL-Comply Shipper's GSA Labeling Wizard eliminates unnecessary data-entry and speeds shipments processing.   EDI orders can be received, labeled right from Comply/Shipper while generating WAWF Receiving Reports and Invoices.
Labeling Standards Compliance
GSA suppliers must be compliant with both Fed-Std-123H and Mil-Std-129R, depending on the shipment destination.  Learn more that and other requirements in this GSA Packaging Packing and Marking guide.
Fed-Std-123H Compliance
Applies when orders are shipped to GSA Supply Centers.
See examples of Fed-Std-123H label formats.
Mil-Std-129 Compliance
Military standard labeling is required when shipping GSA orders to military destinations such as:
Susquehanna Consolidation Point – New Cumberland, PA
San Joaquin Consolidation Point – Tracy, CA
See examples of Mil-Std-129R label formats.
---
Notes:
1. A DOD-certified VAN, such as the Mil-Pac VAN Service (sold separately) is required for submission of EDI transactions to WAWF.
2. The Mil-Pac VAN does not interconnect with GSA, however, MIL-Comply can import EDI X12 transactions from other VANs in ANSI-X12 format.
3. GSA orders may be imported into MIL-Comply from business systems in CSV or M12 format, which does not require an eAwards license. Use Basic Labeling and WAWF Shipper instead of the GSA Quick Label bundle.
---