Reduce Data-Entry to Save Time and Errors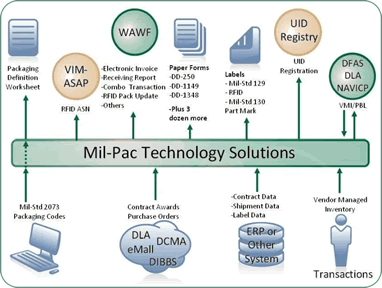 MIL-Comply speeds and simplifies WAWF, RFID, IUID, Mil-Std-129 Labeling and Mil-Std-2073 Packaging compliance for defense contractors. These tools operate together to eliminate redundant data-entry and costly errors. They are available as modular point solutions to meet your specific needs and budget requirements, but can scale up to handle shipping compliance for large enterprises as well.
The MIL-Comply advantage is the efficient use of data. Enter data into MIL-Comply just once and you are done. Forget entering IUID and RFID data multiple times. Fast and easy – using MIL-Comply is simply more accurate than other methods.
MIL-Comply adapts to your process flow. You can start by creating a preliminary WAWF shipment, and then automatically create all of the labels. Or start by labeling your products, then automatically create and submit the Receiving Report to WAWF. RFID data can be included in Receiving Reports or sent separately as part of your labeling process.  Or use it to address just the specific needs of your process.