GFP – Expand, Scroll by existing ID (custom-collapse-0-6)
---
These two work! So, we could build a menu. Ideally, we would JS method that would execute the link, allowing us to proceduralize it. Perhaps then we could also jump to and open sections from other pages.
GFP – Expand, Scroll by ID ("GFP") added to the BR
GFP – Scroll by ID (BR "GFP"), then Expand
---
showByID (custom-collapse-0-6) (NOT a Link)
showByID (gfp) (NOT a Link)
Wide Area Workflow automation can take the drudge out of doing WAWF shipments, eliminating redundant data-entry, increasing speed and accuracy at the same time. Ideally, with a fully integrated solution, information should only entered once.   Electronic (EDI) purchase orders and business system imports can eliminate manual input altogether.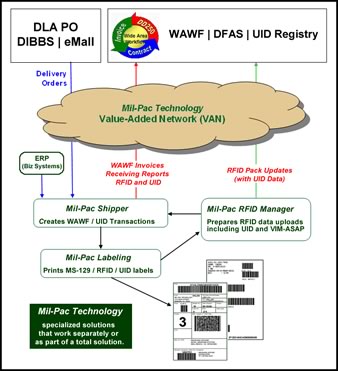 Item Unique Identifiers (IUID) are one of the main drivers for Wide Area Workflow automation, beyond simply avoiding use of the WAWF web application.   The need for each IUID to appear on container labels, be associated with RFID tags, and be included on DD250s can generate four or five touch points per WAWF shipment for each UII.  MIL-Comply makes this easy by generating Mil-Std-129R  IUID labels from WAWF shipment data, ensuring that IUIDs on your container labels are submitted accurately to Wide Area Workflow.
Entering a large number of IUIDs data into the WAWF web application can prove to be aggravating and error-prone.  And correcting mistakes after WAWF acceptance requires access to the UID Registry, which presents its own set of challenges.   With MIL-Comply you simply paste a list of UIIs into the database, where they may be submitted to WAWF and/or used for labeling. It is fast, easy and avoids costly errors. Even submitting embedded UID items is easy with MIL-Comply.
Using MIL-Comply to organize and submit RFID data to WAWF offers advantages for:
Large Shipments – entering a large number of RFIDs, along with the CLIN and quantity associated with each, is a burden that is eliminated Comply/Labeling and Comply/RFID Manager.
Palletized Loads – create an additional headache when done manually, but with MIL-Comply it can all be done automatically when the RFID labels are printed for the exterior containers. There is nothing else to do but click and submit.
UID shipments – require each UII to be associated with the RFID of its container, then submitted to Wide-Area Workflow.  If palletized, the UID, Case and Pallet RFID data must all be correlated. This is very simple to do with Comply/Labeling. Simply paste in a list of UIIs, specify the number of UID items per container, the number of containers per pallet. Then print, slap and ship. The RFID data is automatically correlated for submission to WAWF as an RFID Update or as part of a WAWF Receiving Report.
Multi-Box UIDs – can be a significant challenge in WAWF, since the UII-marked item is shipped in multiple boxes.  Each box must have its own RFID Case tag, resulting in multiple Cases per item and a Case/CLIN count that does not match the number shipped.  While this can be a painful exercise on the free web application,

MIL-Comply

makes it simply, automatically organizing and submitting this complex data to WAWF.
The WAWF web site is one way to submit invoices. However, for companies that create invoice data in their own business systems this approach often duplicates efforts.  This is particularly true for DIBBS EDI orders, as explained below.  
Contractors may submit invoices electronically, bypassing use of the WAWF web site by creating electronic data interchange (EDI) transactions. Take a look at WAWF invoicing via EDI submission and see how MIL-Comply can speed and simplify this process.
DLA DIBBS orders create a challenge due to high volumes and low margins. Eliminating WAWF invoice data-entry can save considerable time.  MIL-Comply instantly converts DIBBS EDI-850 purchase orders into Fast Pay Receiving Reports and Invoices, using the data received from DLA as electronic orders (EDI-850).  Just add your invoice number and immediately submit to Wide Area Workflow, bypassing its web site.   
EDI DIBBS orders can also drive Mil-Std-129 labeling.  Adding VSM Automation allows you to ship without the need to interact with the DLA web site, saving even more time.  MIL-Comply makes the process nearly effortless, saving time and eliminating errors.  Learn more…
Labeling – about 90% of the data required for Mil-Std-129 labeling is entered  into WAWF Receiving Reports.   Even more so when RFID and UID are required.  MIL-Comply  collects  and organizes that data automatically, so that WAWF Receiving Reports and invoices and Mil-Std-129 labels use the same data.
Submitting data to WAWF electronically reduces time and effort while increasing accuracy. Companies that manage shipment data in their business systems export it to MIL-Comply to drive labeling and WAWF shipments for maximum efficiency.
Many large enterprises integrate WAWF data processing into their business systems using electronic data interchange(EDI) formats (ANSI X12 and SFTP/UDF).  This allows business systems to manage contract data, which is then used that data to drive Mil-Std-129 labeling and/or generation of WAWF Acceptance, Invoice and RFID transactions. Creation of Cost Vouchers (SF1034) and Progress Payment Requests (SF1443) transactions, manually or from plain-text import files is supported.
MIL-Comply makes WAWF integration easily available and affordable to companies of any size. It is easy and straightforward, allowing for rapid automation. The software may be connected with business systems ranging from spreadsheets to ERP systems, eliminating the need for manual data-entry into the WAWF web application. MIL-Comply will accept all or part of the required data, allowing the user to fill in the blanks. Learn more about integrating Mil-Comply with business systems.
Defense contractors servicing Government Furnished Property (GFP) have an additional Wide Area Workflow burden. Shipments of such GFP items has to go through WAWF, but using a Reparable Receiving Report (RRR) rather than a standard WAWF DD250 Receiving Report.   Actually, the RRR is simply a DD250 with additional information, which changes the custody of IUID items rather than adding them to the IUID Registry.   To complicate things, custody of such IUID items must be acknowledged to the IUID Registry before shipping on a Reparable Receiving Report. 
Fortunately, the GFP processing is seamlessly integrated into MIL-Comply, part of its GFP Automation solution.
WAWF automation simplifies submission of IUID and RFID to Wide Area Workflow, integrates with Mil-Std-129 labeling, DIBBS purchase orders and VSM shipping instructions to speed the shipment process.

Watch this 10 minute to learn more:
---